Low-Cost Vaccinations l Free Wellness Exam l No Office Visit Fee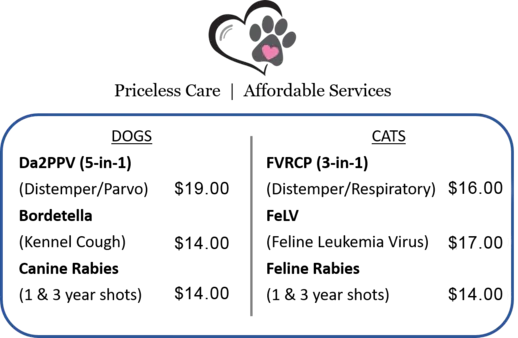 Vaccines: $14.00 - $19.00 (as described above)
FULL SET OF DOG VACCINATIONS (boosters may be required)


• Da2PPV is a 5-in-1 vaccination, commonly referred to as the "distemper shot." It protects dogs against canine distemper, infectious adenovirus (type 1 & type 2), parvovirus and parainfluenza. It is considered a core vaccine and is recommended for all dogs.

• Bordetella is another common cause of "kennel cough" in dogs. Like parainfluenza, it is highly contagious and can be spread through the air. It is considered a core vaccine and is recommended for all dogs.


• Rabies Once symptoms develop, rabies is always fatal. The rabies virus attacks the brain and central nervous system, and is transmitted to humans primarily through the bite or sometimes scratch of an infected animal. It is required by law to vaccinate your dog or cat against rabies.

FULL SET OF CAT VACCINATIONS (boosters may be required)

• FVRCP (3-in-1) Feline viral rhinotracheitis-calici virus-panleukopenia (distemper). This is considered the distemper/upper respiratory vaccine. Symptoms commonly include sneezing, ocular and nasal discharge similar to a common cold in people.

• FeLV (Leukemia) is a viral infection that is only transmitted through close contact (breeding or fighting with an infected cat). This vaccine is recommended for all kittens and adult cats that go outdoors.
• Rabies is an increasing threat to cats. At present, the number of reported feline rabies cases in the United States far exceeds that of dogs and all other domestic animals. Rabies is routinely fatal and is a major public health concern. Because of the potential for human exposure, rabies vaccination is required by law in Nevada.


The FIRST rabies vaccination is generally given on the third visit at 4 months of age. The law requires that a rabies vaccination is given by that age.
Please bring in health records so we can better assist you!

---



---
Download our app!